Lap-Shoulder Belt
All seating positions in the vehicle have a lap-shoulder belt.
The following instructions explain how to wear a lap-shoulder belt properly.
1. Adjust the seat, if the seat is adjustable, so you can sit up straight. To see how, see "Seats" in the Index.
2. Pick up the latch plate and pull the belt across you. Do not let it get twisted.
The lap-shoulder belt may lock if you pull the belt across you very quickly. If this happens, let the belt go back slightly to unlock it.
Then pull the belt across you more slowly.
If the shoulder portion of a passenger belt is pulled out all the way, the child restraint locking feature may be engaged.
If this happens, let the belt go back all the way and start again.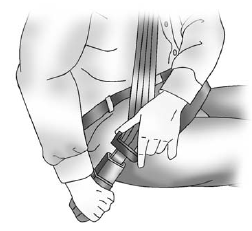 3. Push the latch plate into the buckle until it clicks.
Pull up on the latch plate to make sure it is secure. If the belt is not long enough, see Safety Belt Extender.
Position the release button on the buckle so that the safety belt could be quickly unbuckled if necessary.
4. If equipped with a shoulder belt height adjuster, move it to the height that is right for you.
See "Shoulder Belt Height Adjuster" later in this section for use and important safety information.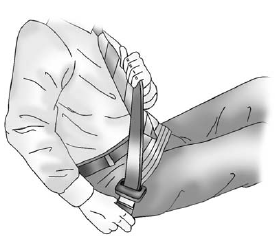 5. To make the lap part tight, pull up on the shoulder belt.
It may be necessary to pull stitching on the safety belt through the latch plate to fully tighten the lap belt on smaller occupants.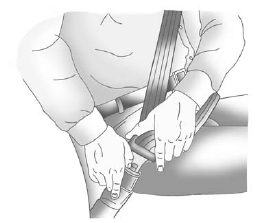 To unlatch the belt, push the button on the buckle. The belt should return to its stowed position.
Before a door is closed, be sure the safety belt is out of the way. If a door is slammed against a safety belt, damage can occur to both the safety belt and the vehicle.
See also:
Head Restraint Adjustment
Do not drive until the head restraints for all occupants are installed and adjusted properly. To achieve a comfortable seating position, change the seatback recline angle as little as necessary w ...
Delayed Locking
When this feature is enabled and the doors are locked with the power lock switch on the instrument panel or front door panels, three chimes sound to signal that the delayed locking feature is in use ...
Questions and Answers About Safety Belts
Q: Will I be trapped in the vehicle after a crash if I am wearing a safety belt? A: You could be— whether you are wearing a safety belt or not. Your chance of being conscious during and afte ...